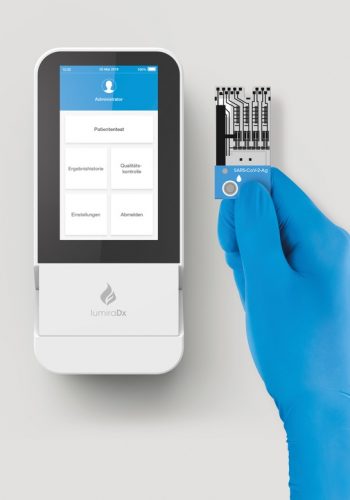 The LumiraDx SARS-CoV-2 Ag Test is a microfluidic immunofluorescence assay for direct and qualitative detection of nucleocapsid proteins in nasal swab specimens from patients suspected of COVID-19.
Used with the LumiraDx Instrument the Test delivers rapid results at the point-of-care.
The use of a LumiraDx SARS-CoV-2 Ag Test on the LumiraDx Instruments will enable the physician to verify infection quickly, begin proper treatment and to initiate isolation precautions helping prevent further spread of infection.
Easy to implement in point-of-care settings
Clinical performance

97.6% positive percent agreement
96.6% negative percent agreement

Analytical performance with a limit of detection of 32 TCID50/mL
RT-PCR comparable results within 12 days of onset of symptoms
In addition to the Emergency Use Authorization (EUA) granted by the U.S. Food and Drug Administration (FDA) on August 18, 2020, LumiraDx SARS-CoV-2 antigen test has now also achieved CE Marking.
For more info please visit the LumiraDx website.